Here at Swag and Tassel, we design and hand craft one of a kind luxury handbags and accessories full of character and style. With a thoughtful approach to design and an eye for detail and craftsmanship, rare and exclusive pieces are created.
Welsh designer Sophie Wordsworth began her journey making carpet bags. Using the rich history of the materials, like carpets hand-woven by tribes in Northern Persia Sophie's initial collections were an exciting juxtaposition of old and new. Following success at the British Craft Trade Fair in 2013, Swag and Tassel list amongst its stockists the British Museum in London.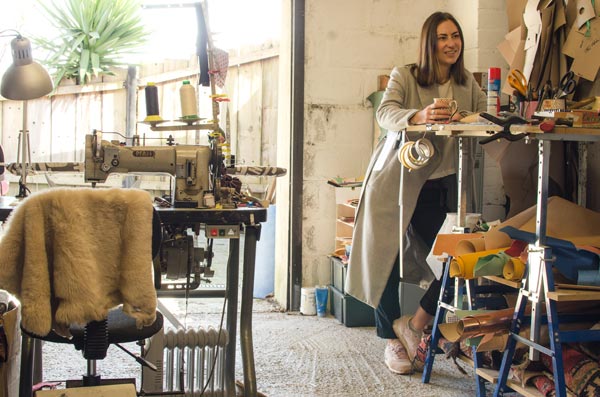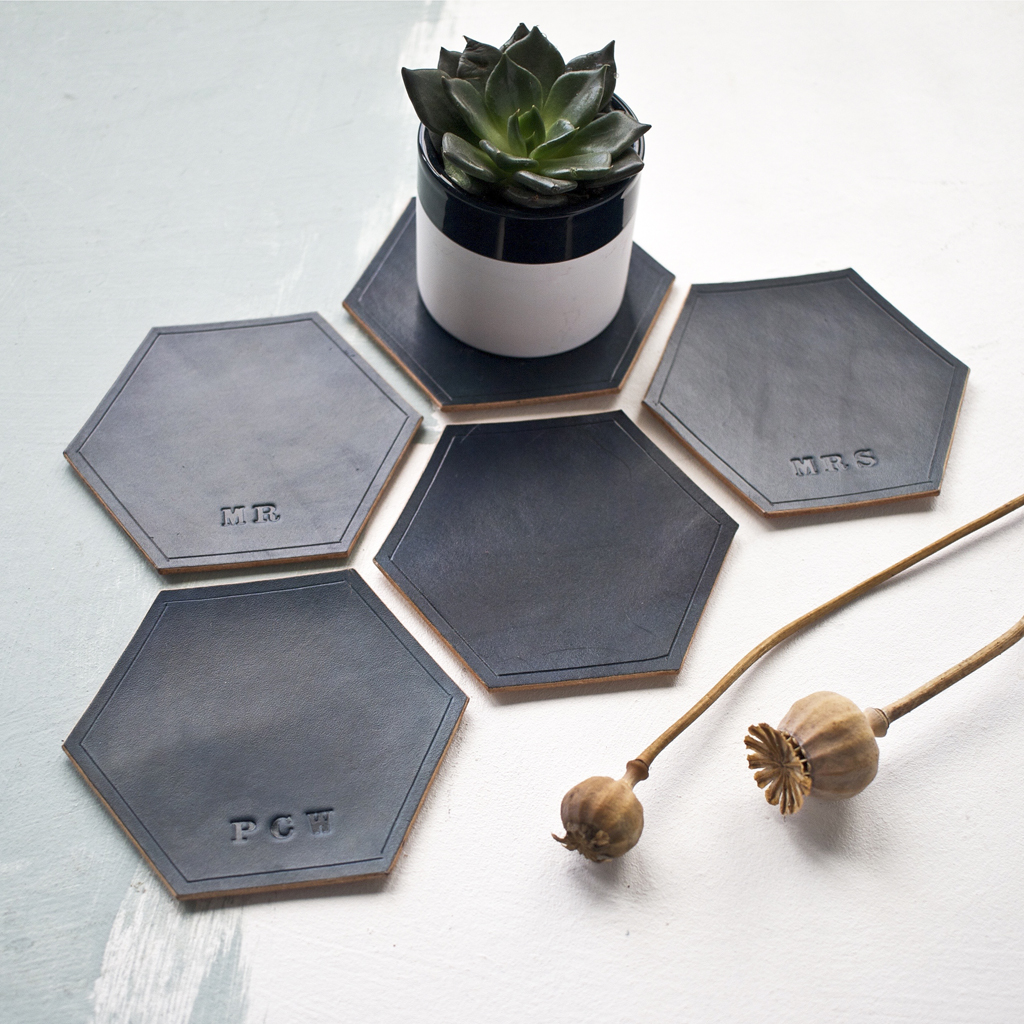 With a passion for textiles and an increasing love for leather, Swag and Tassel has evolved into the carefully curated selection that stands today.
Currently, we have three main collections: The Original Rug; The Simple Collection and The J&FJ Collection. Whilst each range offers its own distinct and individual style, they are unified by the Swag and Tassel signature of clean lines, craftsmanship and wonderfully rich materials.
Swag and tassel also offers a beautiful selection of small personalised leather gifts such as bookmarks and keyring. The most thoughtful and stylish gift to give, and to cherish. 
At the heart of our design ethic is craftsmanship and quality materials. The leather used is lovingly sourced and even more lovingly handled, the historically rich rugs have become a welcome obsession. So, with that in mind, we strive to make bags with an heirloom quality and accessories with a practical and lasting nature.
All of our products are designed, pattern cut and constructed in our small studio in Pembrokeshire, Wales. Nothing is out sourced or made in a hurry, meaning that quality is never compromised.
Hand stitching techniques are used for strength and durability, creating pieces that are built to last. Attention to detail is important, from the bookmarks to the bags we carefully burnish every edge leaving them smooth and beautifully finished.
If there is ever an issue with your bag beyond natural wear and tear our policy is to repair it free of charge. We appreciate our customers.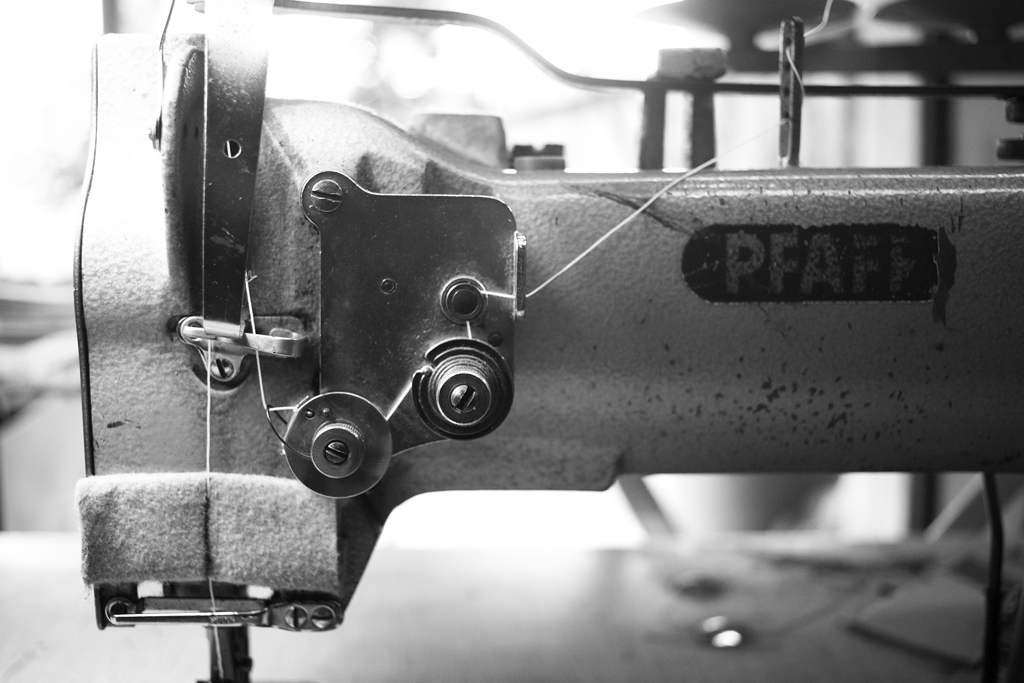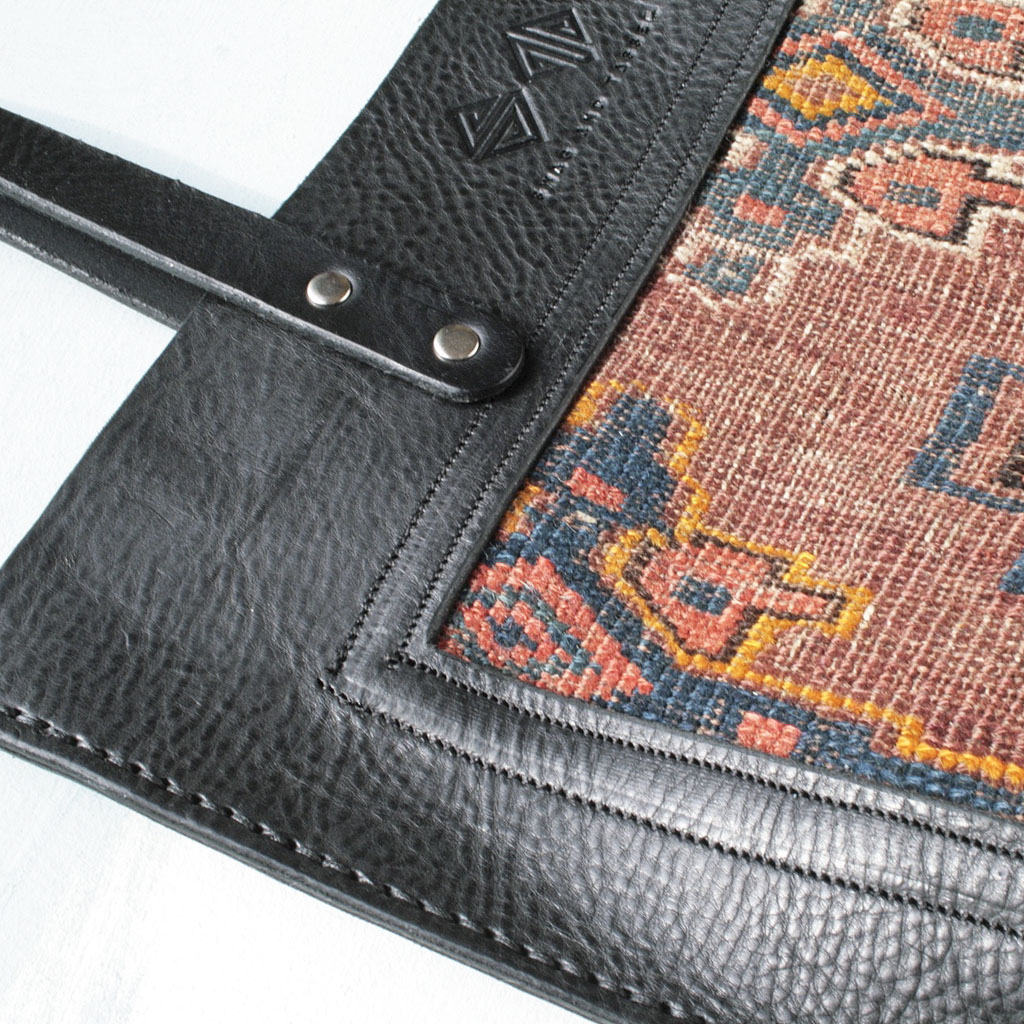 Shopping for materials has to be one of Sophie's favourite jobs. Escaping the confines of her studio, she gets the pleasure of visiting the Aladdin's Cave of leather that is JT Batchelor's in Dalston, East London. There she spends hours hand picking the finest vegetable tanned leather. She then makes the short trip over to Walter Reginald's and orders the most luxurious soft suede from Italy.
The leather we use is always vegetable tanned. This means it is tanned using natural vegetable extracts like wood, bark, fruit, roots and leaves. It is environmentally friendly not using any harsh chemicals. It's a slow process taking up to six months. The end result is a beautiful leather made to last.
And the rugs… that's a pursuit of passion. If there's an unwanted and unloved Persian rug out there waiting to be found, Sophie will find you!
Our packaging is made where possible using recycled and recyclable materials, avoiding materials that are harmful to the environment.
Having your accessory personalised began as a bit of a trend, but is so far standing the test of time. And at Swag and Tassel, we LOVE it, as it's a return to the tradition of bespoke. That feeling of knowing that it's yours and nobody else's.
To ensure this, all the text is hand-stamped, meaning slight marks can be made during the hammering process and alignment of letters can be slightly off. But in the true nature of being bespoke, we feel this adds to the charm of being handmade.
Working with the client, Swag and Tassel can also tailor the design process to create truly bespoke pieces, timeless and uncommon. Contact us for more info on this tailor made service.